At any time of year, there are millions of people who are making an effort to regain their metabolism and lose weight. It is estimated that at any given time, about 38% of the total population of the United States is doing some type of diet, exercise program or some other effort to lose weight.
If what you've learned about the metabolism (such as the 2×1 Diet ™) or using any of the RelaxSlim™ products has helped you lose weight, reduced your waist size and/or improved your health in any way, please share your story to help motivate others! Sometimes all someone needs to get started is HOPE that they can achieve success too!

Here are some of the success stories we have received: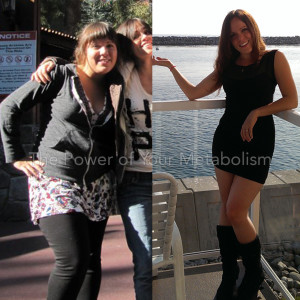 "When I started following the recommendations in the book, 'The Power of Your Metabolism' (by Frank Suarez), I wasn't exactly confident that it would work. I had tried and failed at so many other diets that my confidence in ANYTHING weight loss related was totally shot. But, I decided that for ONE last time, I'd follow whatever he had to say as exactly as possible. After about 3 weeks, I was about to give up (my standard time for any diet…). Luckily, I had been taking progress photos and when I compared the photos of my back, I noticed that the 'rolls' I had were disappearing! Clearly something was working! So from that point on, I continued to apply the recommendations as exactly as possible, including taking the supplements he recommended in the book (helped a lot with my energy levels!!). After a year, I reached my weight loss goal. I went from a tight size 15/16 to a size 7/8. As I'm writing this, it has been two years since I started and I have maintained my weight and health. I highly recommend the book and supplements to anyone looking to fix their metabolism!" – Julianne D.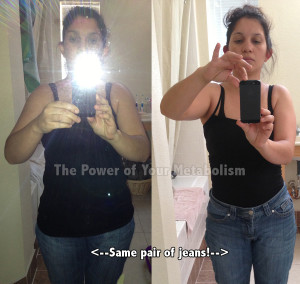 "My main struggles had to do with staying motivated and controlling my cravings for carbs and sweets. Prior to reading the book, 'The Power of Your Metabolism', I would reward myself with these types of foods, thinking it would be okay as long as I exercised. After following the recommendations in the book as well as the RelaxSlim Personal Program, I have gone from a size 12 to a size 4! What I really recommend is making sure you understand what type of nervous system you have and eating accordingly! Also, listen to your consultant!" – Claudia S.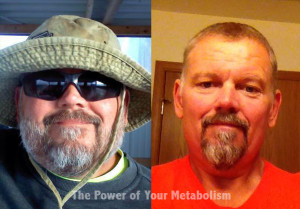 "I tried other diets but none of them ever worked. So, in Feb. 2014, I decided to start learning more about the metabolism, which was when I came across the book, 'The Power of Your Metabolism' by Frank Suarez. Five months later, I have lost 2 pant sizes and can run regularly! I haven't reached my goal yet, but I now have the right knowledge to reach it! Plus, I no longer have to take my medication for high blood pressure!"
– Troy C.
"I feel so much better now and best of all, I have more than enough energy to participate in outdoor activities, which I really love. I even went hiking this last week and really felt the difference. As of today, I have lost a total of 92 pounds!"- O.S.
"When I first started, I was a size 42. Now, I'm a size 36. In total, I've lost about 45 lbs! To top it off, I no longer need any of the medication I used for high blood pressure. I'm really happy with my success with this program!"– S.S.
"By following this program I have regained my health, my metabolism and my confidence. When I started, I wore a size 18 – today, I wear a size 10! Plus, my diabetes has improved so much that I no longer need to inject insulin." – M. S.
"I have tried and failed with so many different diets and weight loss programs in the past that my husband told me that it wasn't worth it to keep trying. Luckily, I decided to try one more time! Because of that, I am now a size 6 and have given away all of my size 14 clothes. I will never go back to making the same mistakes as before!" – T. A.
"It used to seem impossible for me in the past to lose weight, but my metabolism has really improved! I started at a size 46 and now I'm a size 36 in jeans! – P.M.
"I started at size 20. It was so bad that my children and friends would criticize me, blaming me for 'eating too much'. What I discovered was that I simply had a slow metabolism and a sub-clinical thyroid condition that my doctors had missed. Learning about the metabolism has allowed me to get the medical help I needed. With that help, I was able to change my habits and lifestyle and managed to drop down to a size 8 (from a size 20!)." – S. F.
"Frankly, I had already given up because it seemed like no diet would work for me. I tried diets where I'd count calories, but I would always end up hungry. I had no idea, but what I was running into was a slow metabolism. Since following this program, I have dropped nearly 60 lbs. My husband is even jealous of me now because of how great I look! I started at a size 16 and now, I fit perfectly into a size 6." – M. F.
"After I got married, I gained about 30 lbs and was a size 12. The worst part was that I started to suffer from migraines, sinus infections and even high blood pressure. My health had deteriorated and I was always tired. Now, I can fit back into the clothes I wore before I got married and I have a ton of energy. I have regained my metabolism!" – Z.M.
IF YOU HAVE A STORY TO SHARE, YOU MAY DO SO BELOW BY CLICKING "LEAVE A REPLY" AND IT COULD BE PUBLISHED.